Learn about the Sovereignty of Hawai'i – Buy the Book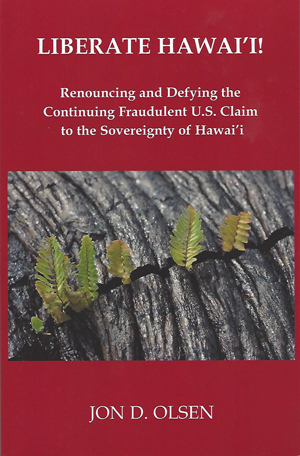 From the Preface to "LIBERATE HAWAI'I!"
Take a look at what some people in Hawai'i have to say about the status of Hawai'i. In 1998 a newsletter called Self‑Determination was published to promote sovereignty. The headline quotes boldly and with firm approval the request made of Hawaiians in 1897 by a key leader, James Keauiluna Kaulia, "FOREVER PROTEST THE ANNEXATION OF HAWAI'I."

One of the articles contained in this newsletter addresses the question most readers will have. The title of the article is "The importance of Annexation to Kanaka Maoli today." The phrase Kanaka Maoli means "indigenous Hawaiian people."

Since the article is not long, it will be useful to cite it in its entirety. . . .
Read the full article and more in LIBERATE HAWAI'I!.
To buy an autographed copy of the book send a check for $20 (includes postage) to:
Jon Olsen
P.O. Box 362
Jefferson, Maine 04348
and I'll mail the book right out to you.
Thank you.
You can also find, read reviews about, and buy LIBERATE HAWAI'I at Amazon.com.
Know the truth!